Are you a team player your colleagues can rely on? Do you embrace continuous learning? Are you an expert in one or more of our partner products or technologies? Do you have managed service experience? Are you passionate about continuous service improvement?
If you answered 'yes' to one or more of these questions you are someone we would definitely like to get to know.
Groundswell Group provides a culturally diverse and supportive work environment with access to leading edge technologies, career-enhancing training, and opportunities to work with some of the most innovative and influential corporations in Western Canada. We are always looking for people who understand the power of collaboration, integrating with colleagues and the customers we serve together.
If you are seeking to be part of an organization where career growth is fostered and talent recognized; Groundswell Group may be the place for you! Whether you are interested in helping our clients build the world of tomorrow through our Project Services or helping our clients maximize the value of their current production assets through our Support & Maintenance Services we have a role and a career for you.
What's In It For You? Top 10 Reasons to Work Here

Work with Leading Edge Technologies
If it's a leading Enterprise Data Integration or Business Intelligence technology, we work with it.
Tableau, TIBCO, Informatica, Birst, Cloudera, Denodo, Qlik, Trifacta, SAP, IBM, Oracle……..we only partner with the most advanced companies in our field.
Develop your Skills and Career
From internal training labs to team-building workshops, you will receive ongoing opportunities to grow your technical and communication skills at Groundswell.
Your manager and your mentor will help you use your annual training budget to achieve your career goals.
Acquire valuable public speaking skills through participation in our Toastmasters chapter, and enhance your leadership skills through our corporate coaching program.
We Work Together
It's what we do…every day.  Our approach builds connections and relationships that lead to better, more rewarding work.
Attitude, Aptitude and Character: Groundswellers have them all
We believe a positive attitude is a driver of success, and that developing and manifesting a positive attitude creates a work environment that will lead to happiness and contentment.
We believe in continual learning and always getting the job done. We are respectful and collaborative in all our dealings. People like working here.
Diverse and Vibrant Culture
Our culture is vibrant and exciting and focused on collaboration, continuous learning, and diversity.
We are proud to have been a finalist for Alberta's Best Workplaces in the Diversity category, an award that recognizes Alberta‐based companies who are leading the way in corporate culture and human resource development.
We Support Work Life Balance
We recognize that corporate success is based on the sum of each individual's contribution to our collective goal; serving and caring for our clients.
However, we respect that our employees have a life outside of work that must be respected and nurtured because feeling balanced in our lives is crucial to maintaining health and happiness and business focus. The rewards that come from this are priceless.
We Work with Great Clients in Numerous Industries
We choose to work with clients that respect our expertise and employees. Our clients are spread over numerous industries giving you the ability to broaden your experience as you learn the intricacies of each industry/client.
We Give Back
Groundswellers love to volunteer! We have a strong focus on charitable giving and we proudly support organizations in our community including Hull Services, Calgary Health Trust, the Canadian Red Cross, Alberta Children's Hospital, Heart and Stroke Foundation, and KidSport.
We are also medal winners at the annual Calgary Corporate Challenge event.
We're Social & Active
Many of us enjoy connecting away from the office. Groundswell sponsors social outings through the year including ski trips, hockey and football games, and multiple Groundswell sports teams. If sports aren't your thing, we host activities like poker nights, retro video game events, and our infamous monthly soirees.
We are profitable, stable and expanding to new regions and countries.
We've grown our business every year for 15 years. You can develop a long term career here.
Thanks for connecting with us! We look forward to realizing your potential.
Your privacy is important to us, please click here to view and accept our terms and conditions and privacy statement. We are an equal opportunity employer.
Groundswell Group CAREERS WEB SITE TERMS OF USE
Groundswell Group Inc. (referred to as Groundswell) makes this Web Site available to Users as a means to apply for employment opportunities within our organization. Your use of this Web Site signifies that you have read, understood and agree to these terms and conditions.
1.0 PASSWORDS
1.1 Your User Login ID and password to this Web Site are known only by you and they should be kept strictly confidential. Any disclosure of your Login ID and password will provide an unauthorized user with full access to your profile.
2.0 PERMITTED USES
2.1 This Web Site is made available solely to enable Users to create personal profiles and attach resumes in response to employment opportunities posted by Groundswell. 2.2 Users will not submit resumes or data containing fraudulent information or misrepresentations of work experience, education, or any other aspect of the User's personal profile. 2.3 Users will not be permitted to attach, upload to, post, transmit, distribute or otherwise publish any content that: i. Is unlawful, obscene, pornographic, harassing, threatening, defamatory, libelous or is in any way objectionable. ii. Infringes on any intellectual property or the rights of any other person or entity. iii. Violates any applicable law.
3.0 PRIVACY, LIMITING USE AND RETENTION OF PERSONAL INFORMATION
3.1 Groundswell collects User information solely for the purpose of matching Users to employment opportunities available within the organization. 3.2 All User profiles are stored on a server in Canada hosted by HireGround, an external service provider supporting Groundswell's online recruitment system. Authorized employees of HireGround will have access to all User data stored on that server. The necessary safeguards have been put in place by Groundswell to ensure that Users' personal information stored on this server is not used or shared by Hire Ground for any purpose(s) other than as required to support this Web Site. 3.3 Groundswell operates under privacy legislation including the Personal Information Protection Act (PIPA) (2003), and the federal Personal Information Protection and Electronic Documents Act (PIPEDA) (2001). Except as may be permitted under Section 3.2 or required by law, Users' profiles will only be accessible by those Groundswell employees who are authorized to access this recruitment database. Groundswell will not share, sell, or otherwise distribute any User profiles to any third party, including other employers, agencies, or affiliates of Groundswell. 3.4 Only the User who creates a personal profile and attaches a resume can access and view that data. Without access to your confidential Login ID and password, other visitors to this Web Site are prohibited from viewing your personal data. 3.5 Groundswell may target a User's profile for employment opportunities other than those opportunities selected by the User. The User is under no obligation to consider these alternate employment opportunities. 3.6 Groundswell will retain User information for a reasonable period of time after which Groundswell will dispose of the information in a secure manner. Users who wish to have their personal information deleted from this database at any time are required to send an e-mail notification to Groundswell at recruit@groundswell.ca.  3.7 Notwithstanding any of these terms and conditions, Groundswell reserves the right, without notice and in its sole discretion, to terminate use the Website, and to block, prevent or suspend further access to and use of the Website if you breach or have breached any of these terms and conditions.
4.0 COPYRIGHT, TRADEMARKS AND OWNERSHIP
4.1 The Groundswell symbol and name are the property of Groundswell. The appearance of such marks and names does not convey any rights to the User to use them without the prior written consent of Groundswell. 4.2 Any use of the Web Site's content not expressly permitted herein is a breach of these Terms of Use. All rights not expressly granted herein are reserved. 4.3 Except as permitted herein, the User will not modify, reformulate, disassemble, reverse engineer or decrypt any of the Web Site contents.
5.0 INTERNET WEB SITE SECURITY AND AVAILABILITY
5.1 Data on this Web Site is protected by 128-bit encryption. 5.2 Groundswell will make a reasonable effort to ensure this Web Site is available during normal business hours. However, Groundswell retains the right to disable the Web Site from time to time for routine maintenance or any other business requirement, without notification and without liability to the User.
6.0 LIMITATION OF LIABILITY
6.1 The User will use the Web Site solely at the User's sole risk. The Web Site and its contents are provided "as is" and "as available". Groundswell, to the fullest extent permitted by law, disclaims all warranties of every kind, whether express or implied, statutory or otherwise. Groundswell explicitly disclaims any representation, warranty or condition of merchantability, fitness for particular uninterrupted or error-free services, or inter-operability of products and services, whether arising by usage or trade, course of dealing, course of performance, statute, or otherwise. 6.2 Groundswell and its respective officers, directors, employees and agents, are not responsible for any direct, indirect, special, incidental or consequential loss or damage the User or any other party claiming through the User may suffer in connection with use, misuse or inability to use the Web Site or the information obtained from it. This limitation applies regardless of the form of action, whether based on warranty, contract, tort or other legal theory. 6.3 Groundswell is not responsible, and will not be liable to the User or any other party, for any damages in connection with any e-mail sent to Groundswell by the User, or any e-mail Groundswell sends to the User at the User's request.
7.0 INDEMNITY
7.1 The User accepts sole responsibility and liability for all activities that occur under the User's Login ID and password. 7.2 The User agrees to indemnify and hold Groundswell, its affiliates, and their respective officers, directors, employees and agents harmless from and against any and all claims, demands, costs, losses, actions, suits or proceedings, including legal fees and disbursements, that are attributable to any negligence, default or unlawful acts of the User, including misuse or unauthorized use of the Web Site. This indemnity will survive the termination or expiry of these Terms of Use.
8.0 AMENDMENTS
8.1 Groundswell may at any time amend the content of this Web Site or these Terms of Use, with or without notice. It is the responsibility of the User to review the Web Site and these Terms of Use regularly.
9.0 GOVERNING LAWS
9.1 This Site, its content and its Terms of Use will be governed by the laws of the Province of Alberta.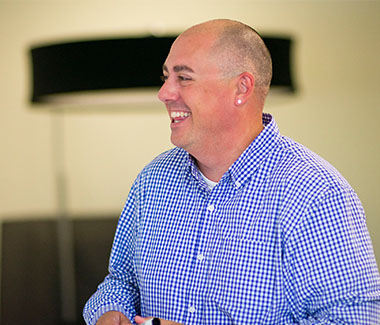 Featured Employee: Dustin Goodyear
Dustin is the Operations Lead of one of Groundswell's biggest clients. He said "as soon as I got a job doing java development for a small start-up, I knew I was going to love technology and working in the field. I've strived to find the same team atmosphere wherever I went, and in Groundswell, I have been able to not only find it, but be a driver of the team culture and a strong contributor on many fronts". He enjoys the people he works with and the team environment Groundswell supports. Not only has his technical career grown but Groundswell has provided him with an abundance of both internal and external training to foster his growth as a person and a professional, now supporting multiple technologies/projects.
Testimonials

"The degree of loyalty from Groundswell to its employees is unbelievable. My personal growth is extremely important to my manager and there's a regard for people's welfare here that I've never experienced before at a company of this size."
"Groundswell is an exciting place to work. I have lots of opportunity and it's satisfying to work with new technologies and interesting clients. The training opportunities are abundant and I am adding lots of new skills."
"Groundswell is a company like no other. Working here, you feel you are not just an employee but a valued member of a team. Voice your opinion and trust that your input will be welcomed; share your experience and learn from others; lend a hand to a colleague knowing help will always be there when you need it. In this company, we work as a team to succeed as a company."